News
How do inflatable tents work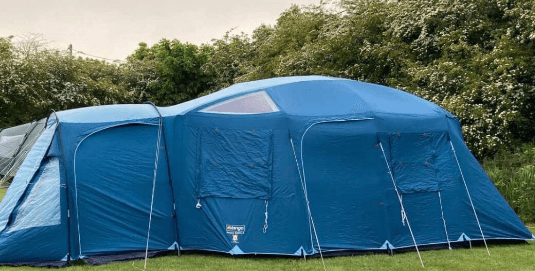 If you are wondering about an inflatable tent for camping, it is important to know that the characteristics explained in the article also apply to inflatable tents for your home.
However, inflatable camping tents serve a completely different purpose than other types of inflatable tents. These are mostly used for events or as a shady spot in your backyard, so the usage and construction are different.
Inflatable tents are also placed on the beach to create shade for a larger group of people, although considering the price this is a questionable feature. However, to stabilize them, you don't need nearby trees, just simple guy wires, pegs and a relatively soft surface.
An inflatable tent is ultimately a classic tent that does not use a hard stake, but pneumatic columns that you inflate using a simple inflator when you set up the tent. Read more about Hiking Backpack
Do you lose air all night if the temperature changes?
Many may think that if you are camping in warmer climates, air can be lost throughout the tent and the tent will start to deflate. This is not the case in most of these inflatable tents, as the companies that manufacture them take this into account and ensure that no air loss occurs during use. The only way to lose some air is to get a hole, so always have a repair patch handy just in case.
Do these tents come with pumps?
The answer depends on the tent you decide to go camping with. Some companies provide a specific pump, otherwise the tent would be useless until you have a compatible pump. Some companies understand that you're spending quite a bit of money on their tent and offer a nozzle so you can use any pump. Finally, others integrate the pump directly into the tent to avoid any oversights.
The benefits of an air tent
The rapidity
This is a significant advantage, because setting up a tent is sometimes long and boring, here you save time!
You will be able to set up a large 6-person tunnel tent in about a quarter of an hour. You will therefore go twice as fast as if you had set up a classic camping tent. If you are ever roaming, you will even save 15-20 minutes of tent assembly several times. In addition, this type of tent is more easily erected.
Lightness
You don't have to carry poles, so your tent is inevitably lighter than a classic camping tent. Less fatigue for your back and your arms, less load in your vehicle, you are a winner at all levels.
More solidity
The hoops twist and can break, here you won't break your pneumatic tubes like that and the wind won't do anything about it either. You can therefore stay safely in the tent without being afraid that it will fall on you following a gust.
Inconvenience
Everything can't always be perfect, so there is a small downside: the packaging can be a little more cumbersome. Indeed, the pump is against the tent canvas, which takes up a little extra space. Similarly, the tent being a single unit: groundsheet, inner canvas, outer canvas… which generates a little more space.
So you will have to go with one big pack instead of a few of different sizes.